As we stay close to home during this time, let's fill our space with the sound of music…all kinds of music performed by our own Kansas City musicians! View live every night 5:00pm CST right here or on Facebook.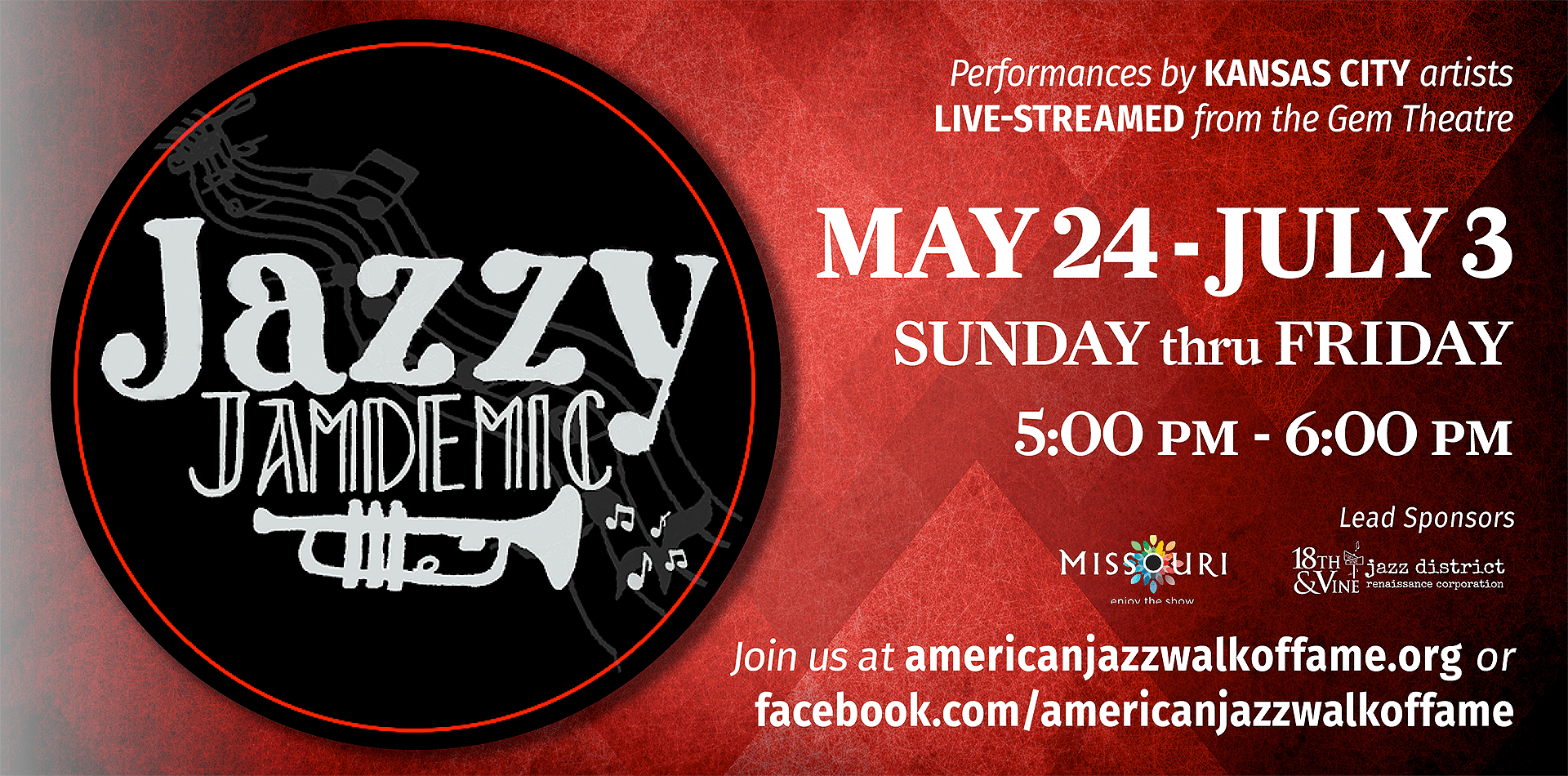 Sunday, 6/28
Charlotte Fletcher & Soinge'
Monday, 6/29
Steve Lambert Quintet
Wednesday, 7/1
Ron Gutierrez, Emiel Cleaver, & James De Noir
?
Thursday, 7/2
Kelley Hunt
?
Friday, 7/3
Charlie Parker Centennial Tribute Featuring Bobby Watson, Deborah Brown & Dr. Wayne Goins
Sunday, 6/21
Glamour Professions playing the music of Steely Dan
Monday, 6/22
James Ward Band


Tuesday, 6/23
Joe Cartwright Trio


Wednesday, 6/24
A Tribute to Queen Bey Featuring: Charles Williams, Lori Tucker and Paula Saunders
Friday, 6/26
Desmond Mason Quintet
?
Sunday, 6/14
Preston Portley
Monday, 6/15
Gerald Spaits & Charles Perkins Quartet
Tuesday, 6/16
Chris Hazelton Quartet
Wednesday, 6/17
John Paul Drum & His Flying Circus
Thursday, 6/18
We The People
Friday, 6/19
The "B" Side Band
Monday, 6/8
Tyree Johnson & Everyday Strangers
Tuesday, 6/9
Will Matthews Organ Trio
Wednesday, 6/10
Eboni & The Ivories
Thursday, 6/11
Lee Langston
Friday, 6/12
Delynia Jannell
Sunday, 5/31
Lonnie McFadden
Monday, 6/1
Bryan Alford Experience
Tuesday, 6/2
Sons of Brazil
Thursday, 6/4
The All Night Trio
Tuesday, 5/26
James Ward Band
Wednesday, 5/27
Millage Gilbert
Thursday, 5/28
Pablo Sanhueza